I started the Focused Women's Network in March 2007, just after I joined RBS from IBM. Motivated by the fact that I could hardly see any senior women, we launched with a very clear purpose, and one that continues to this day – to actively attract, retain and develop talented female members of staff within RBS.
Today, the network supports the development and career advancement of all RBS employees by offering up the chance to gain personal development, to get involved in activities that will allow them to excel and challenge themselves, and to build networks internally and externally.
If I were to offer advice to anyone thinking of starting up something similar, I'd say:
Don't do everything yourself, find volunteers keen to take on tasks that allows the group to grow and flourish, and also offers them their own personal development by taking on roles that aren't the 'day job'.
Get senior buy-in – align your group's objectives with your business' strategic objectives.
Think about your launch plan – I launched on International Women's Day as it gave us the focal point to kick this all off.
Our network offers speaker sessions, workshops and inspirational talks – in the early days, these were pulled together from contacts and charities I knew. I called in favours to be able to present a roster of inspirational speakers to grow numbers and build support.
Today, the network has 7,500 members from across the globe, and is growing every day. I see one of our biggest achievements in that we've been instrumental in the change of culture within the bank. We are actively helping the organisation achieve its goal of 30% females in senior roles by 2020, and it's hugely exciting for us all to be part of that.
Helen Campbell
Head of Global Brand and Marketing Communications, VisitScotland
Chair of Marketing Society Scotland
Female survey respondent
Mind the Gap Scotland research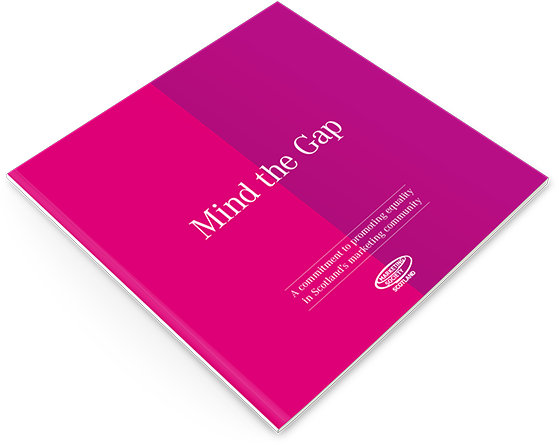 For further details on our research,
download our brochure
Download
Equal Opportunities?
Do you think men and women are equally represented at all levels in marketing/agency jobs in Scotland?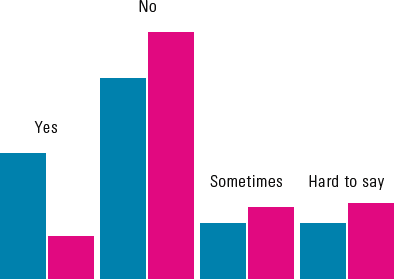 9% of women and 29% of men think that men and women are equally represented at all levels in marketing/agency jobs in Scotland.
Pledge
I'm committed to building an equal &
thriving marketing community in Scotland.
Join the 264 people pledging to the Mind the Gap campaign
Frances Irvine
Whitespace
Chris McIntyre
Whitespace
Riona Ni Bhrolchain
Whitespace
Phillip Lockwood-Holmes
Whitespace
Callum Prockter
Whitespace
Alyson Greeley
Whitespace
Case Studies
Read our case studies from those committed to making a difference.