At ScottishPower our goal is to be a leading diverse energy company; by encouraging women into leadership roles and engineering careers, we don't only increase a diverse and inclusive workforce but take active steps to address the deepening skills shortage in the sector. We recently conducted a review of equality, diversity and inclusion across the company to better understand the current state of our working practices and policies, identify gaps and develop an action plan, based on three key focus areas:
Inspiring and Encouraging Young People into STEM Careers
We strongly believe in raising awareness and providing support to help young people make informed choices regarding their future careers. We are committed to inspiring and encouraging young people into STEM Careers – so far through partnerships with Dumfries House, The Big Bang Events and Young Engineers & Science Clubs Scotland.
Promoting Gender Diversity
By promoting gender diversity, we can be more innovative in our working practices as well as having a positive impact in closing the gender pay gap. We are committed to driving gender diversity in the energy sector and have pledged our support through our partnership with POWERfulWomen, to advancing the professional growth and leadership development of women in the UK energy sector.
Agile Working
Our flexible working practices and leave policies provides an opportunity for employees to effectively integrate their working lives and career development with other responsibilities and activities, maintaining a positive balance between work and non-work commitments.
ScottishPower received the "Scottish Top Employers for Working Families" award in March this year and we will continue to build our profile as a progressive employer to help us to recruit and retain talent.
Our extensive range of provisions include:
Flexible working patterns including part-time, job-share, compressed hours and term-time. These are viewed as a benefit to both male and female employees, with over 10% of employees working part-time being male.
Enhanced provisions for maternity, paternity, adoption, fertility treatment and childcare vouchers.
For Carers – paid dependency leave of up to 3 days paid leave in addition to that offered under statute and caring leave breaks of up to 6 months.
Development breaks of up to 6 months.
A suite of flexible benefits such as buying additional holidays, private dental/health care plans, season ticket loans, cycle to work scheme.
In April 2015 we launched our Shared Parental Leave policy and enhanced benefits to match our maternity and adoption leave provisions.
Helen Campbell
Head of Global Brand and Marketing Communications, VisitScotland
Chair of Marketing Society Scotland
Female survey respondent
Mind the Gap Scotland research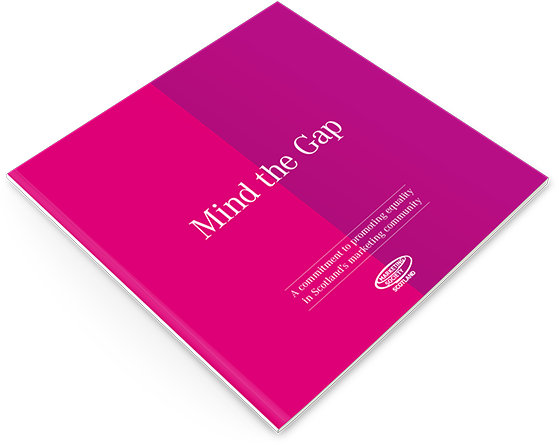 For further details on our research,
download our brochure
Download
Equal Opportunities?
Do you think men and women are equally represented at all levels in marketing/agency jobs in Scotland?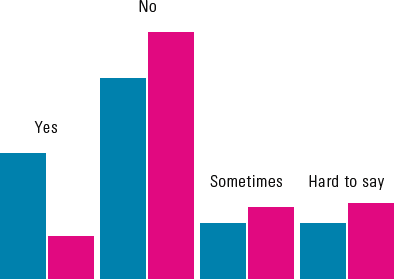 9% of women and 29% of men think that men and women are equally represented at all levels in marketing/agency jobs in Scotland.
Pledge
I'm committed to building an equal &
thriving marketing community in Scotland.
Join the 264 people pledging to the Mind the Gap campaign
Frances Irvine
Whitespace
Chris McIntyre
Whitespace
Riona Ni Bhrolchain
Whitespace
Phillip Lockwood-Holmes
Whitespace
Callum Prockter
Whitespace
Alyson Greeley
Whitespace
Case Studies
Read our case studies from those committed to making a difference.