Paved With Gold was built to support makers all over the world who want to get their products into the hands of people who will love them. Our team are in London, Glasgow and Barcelona. Everyone is in full control of their workload and how they manage their time. We don't have set working hours, allowing them to fit their work around their passions, studies or families. We use tools like Slack, email and Skype to make remote working seem not so remote. Sending out a weekly email to all our consultants, to keep them connected even if we're not working on the same project.
Hiring, supporting and retaining women is in our DNA: we want to support a diverse, creative and exceptional team. To employers looking to retain more women in the workplace. Hire more senior women, make the changes at the top. Look for women in minor roles that can be promoted to achieve bigger and better things; pushing your company, and your colleagues forward. Create smaller teams that allow for creativity, flexibility and autonomy. Nurture your people, and you'll nurture women.
Helen Campbell
Head of Global Brand and Marketing Communications, VisitScotland
Chair of Marketing Society Scotland
Female survey respondent
Mind the Gap Scotland research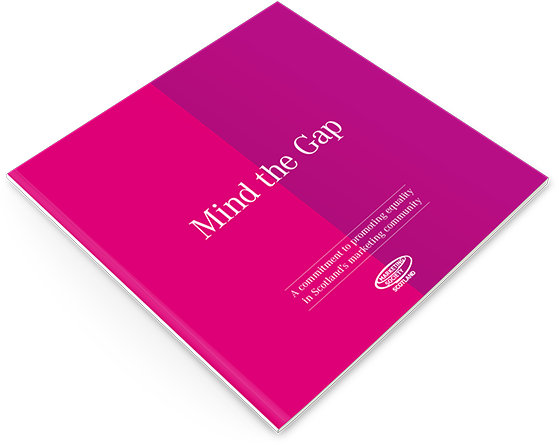 For further details on our research,
download our brochure
Download
Equal Opportunities?
Do you think men and women are equally represented at all levels in marketing/agency jobs in Scotland?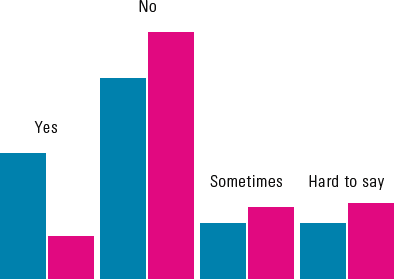 9% of women and 29% of men think that men and women are equally represented at all levels in marketing/agency jobs in Scotland.
Pledge
I'm committed to building an equal &
thriving marketing community in Scotland.
Join the 264 people pledging to the Mind the Gap campaign
Frances Irvine
Whitespace
Chris McIntyre
Whitespace
Riona Ni Bhrolchain
Whitespace
Phillip Lockwood-Holmes
Whitespace
Callum Prockter
Whitespace
Alyson Greeley
Whitespace
Case Studies
Read our case studies from those committed to making a difference.