Welcome
It's well known that we still live in a society where inequality exists and the data on gender balance in the Scottish economy is stark. Scotland's gender pay gap sits at 17.5% and of the Scottish based companies in the FTSE 100, only 25% of board positions are held by women.
On the positive side, greater economic participation of women would add a staggering £17 billion to Scotland's economy.
Progress is however on the way and the Scottish Government's initiative to achieve 50/50 by 2020 has undoubtedly put diversity on the agenda of businesses of every size. London is often the focal point for any industry reviews with the state of play in Scotland historically receiving much less attention. This led to a group of Marketing Society Scotland members to explore further what this meant for them and their roles as employers and employees.
The Inspiring Women initiative is borne out of a recognition that as a marketing community we can all work harder to ensure greater equality in the workplace at all levels. Where there is inequality we need to understand why and most importantly take proactive steps to address it. As you will see from the case studies below there are several companies who are doing some great things in this area and I would encourage everyone to celebrate excellence and learn from what others are doing.
Next year we will continue our commitment to the Inspiring Women initiative and will be adding several new elements for members to engage with. I do hope as many of you as possible will sign up to our pledge and that this initiative will be embraced by all members of the Society, so together we can start to build a more balanced marketing community and culture.
Helen Campbell
Head of Global Brand and Marketing Communications, VisitScotland
Chair of Marketing Society Scotland
There are stereotypes of behaviour that make women very vulnerable. A man would be called a great leader and a woman would be called bossy when acting in the exact same way.

Female survey respondent
Mind the Gap Scotland research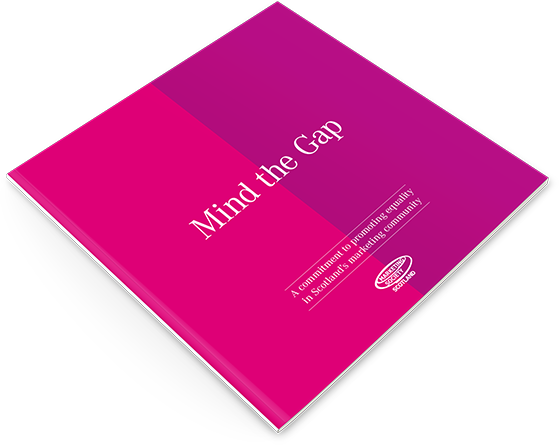 For further details on our research,
download our brochure
Download
Equal Opportunities?
Do you think men and women are equally represented at all levels in marketing/agency jobs in Scotland?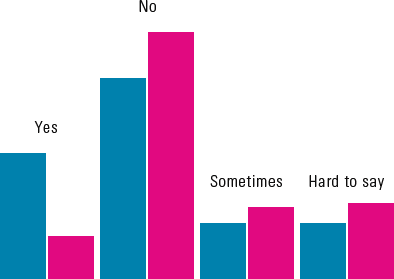 9% of women and 29% of men think that men and women are equally represented at all levels in marketing/agency jobs in Scotland.
Pledge
I'm committed to building an equal &
thriving marketing community in Scotland.
Join the 264 people pledging to the Mind the Gap campaign
Frances Irvine
Whitespace
Chris McIntyre
Whitespace
Riona Ni Bhrolchain
Whitespace
Phillip Lockwood-Holmes
Whitespace
Callum Prockter
Whitespace
Alyson Greeley
Whitespace
Case Studies
Read our case studies from those committed to making a difference.